Anna Kartashova: about fashion, spring beauty tips and secrets
Natalia Valevskaya Savoretti www.instagram.com/nataliavalevskaya continues her conversation in Monaco with the model, influencer and aspiring designer.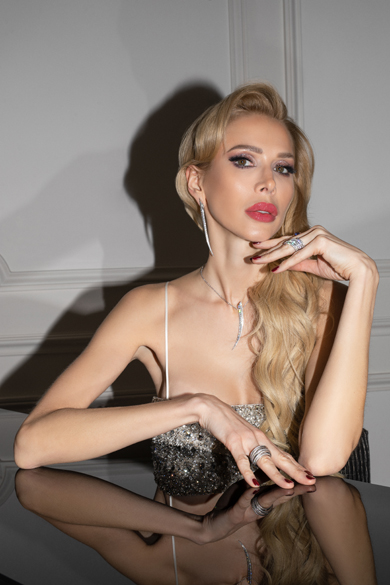 Anna, you have worked diligently as a model and photo model in both the past and present. It is quite natural to explore a career in design, like Gisele Bündchen, for example. Weren't you afraid to start?
I would not call it fear, but more of a thrill and a desire for novel experiences. I think it all comes from my childhood. My mother has always been involved in creativity, I enjoyed drawing and we often invented and crafted together. During my years in the fashion business I worked with many famous designers and brands, and at some point I realized that I was interested in the process of creation from beginning to end, and so I went to Milan's Marangoni Fashion Institute to study fashion design.
Often newcomers to the industry get a cold reception, stares and lack of support, was it the case with you?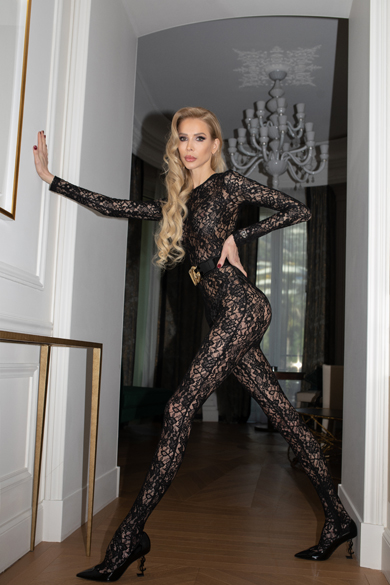 Fortunately, I have been spared from such experiences. On the contrary, my colleagues have been incredibly supportive. I am grateful for all the advice and recommendations, but at the same time I possess a clear vision of my objectives and how I want to achieve them. Of course, I do not forget about my modelling career and I continue to work on diverse photoshoots for magazines and other publications. I just came back from Paris Fashion Week. Although both of these endeavors currently hold significant value in my life, I cannot say that I have a preference. Undoubtedly, my family is my priority.
Is it possible for you to appear on the catwalk wearing your own clothes?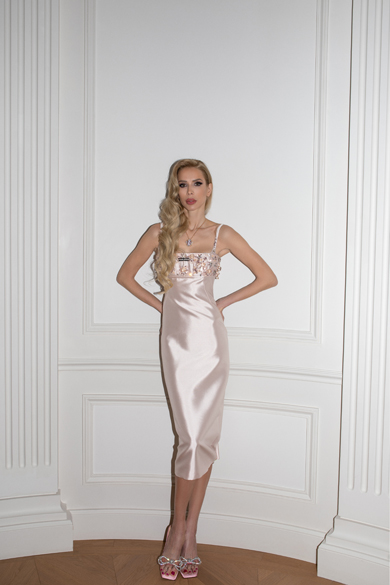 It's too early to say, but it's a great idea and a great marketing ploy, don't you think? (Laughing.) In addition, my daughter has always wanted to be on the catwalk just like her mother. Who knows, maybe in a few years she will become an ambassador of my brand? (Smiles).
Do you reference someone else's work when creating a collection or is everything completely from your head?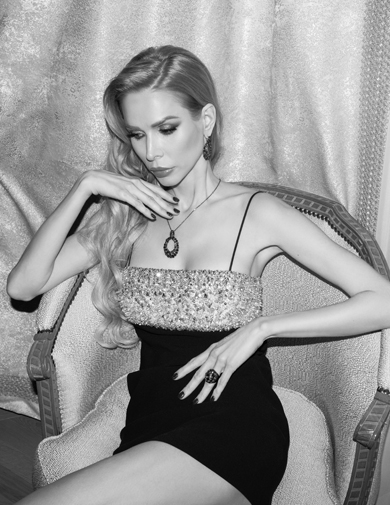 I always like to benchmark myself against the finest, my favourite brands are YSL, Prada, Gucci, but I try to choose my own path. When I first launched my brand, I worked with girls of different sizes to find the golden mean, the one style and design that suits absolutely everyone. I can proudly say that I have succeeded.
You mentioned that you were at Paris Fashion Week. What trends would you highlight for the coming season?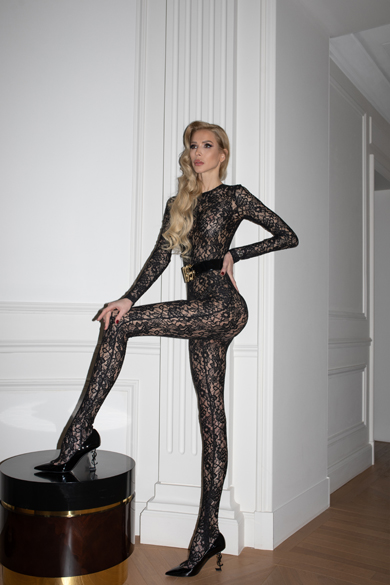 Oddly enough, one of the first things I would mention is upcycling - recycling and trying to give things a second chance, why not? For example, vintage pieces! Surely everyone can find timeless classics, which can be re-stitched somewhere, or refreshed for the new season. I'm all for action and creativity! Another point is a return to the roots, or rather, to the aesthetics of the noughties. Low cut is back in fashion! Speaking of fit, the cargot cut has also returned to the trend section. Today it is not only our usual trousers, which are combined with comfortable boots and fur coats of different lengths, but also maxi cargo skirts. And a large number of pockets is not only an interesting visual solution, but also practical. Femininity and sexuality are meant to emphasize the irreplaceable accessories for high society women of the past centuries - openwork and lace corsets. The advantage of this piece of clothing is that you can mix it with anything, any, even the seemingly rough image will be graceful and interesting.
You have quite a rich and eventful life. I can't imagine how you manage it all, raising four children at the same time, where do you regain your strength and come to your senses after such a hard work?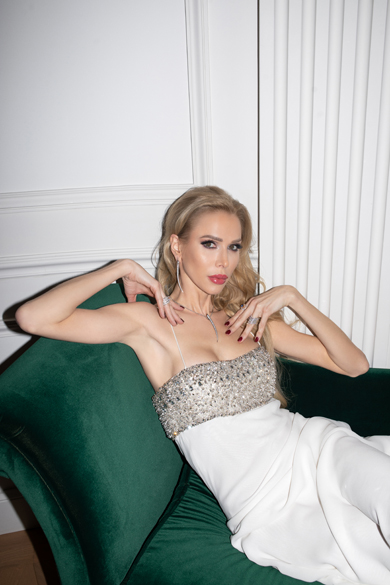 I follow the principle "Healthy mind in a healthy body" and exercise regularly. For me it is an important element of self-discipline. For example, a morning run is one of the best ways to cheer up and energize yourself for the whole day. I highly recommend it to anyone who doesn't already jog. Sports and a healthy lifestyle are so addictive that you just can't live without them. I also love cycling - not only does it work different muscle groups, but it's also great for endurance. But my favourite thing to do is downhill skiing. Living near stunning winter resorts, I just couldn't help but become an avid skier. I will tell you a little secret - each such workout in the mountains is comparable to a cryotherapy session. The effect is amazing! And it is good not only for my skin, but also for the overall condition of my body. I'm much less tired, after this type of training, I not only sleep better but also feel better.
I know that you love to try and test various beauty treatments and novelties. Could you share with our readers what has impressed you the most and what you would recommend as a must?

Oh yes, it's my little guilty pleasure which I'm not ashamed to admit (smiles). My favourites are the vitamin and magnesia drips - they take away swelling and tiredness at once, and one of my favourites is the EXILIS lifting procedure - absolutely painless and safe. And it can be done not only on the face but all over the body as well. You only feel a pleasant warmth and the effect is noticeable literally from the first treatment. As I said before, cryotherapy replaces outdoor exercise for me, but I also find this kind of procedure important and necessary for healthy and glowing skin, so I highly recommend it. For home care I prefer the Swiss Margy's and their wide-ranging facial masks: cleansing, moisturising, firming, brightening. And if you do it at least once in a while, you can stay in great shape for a long time. Proven! (Laughs).
Beauty care is clear now, but what about going out?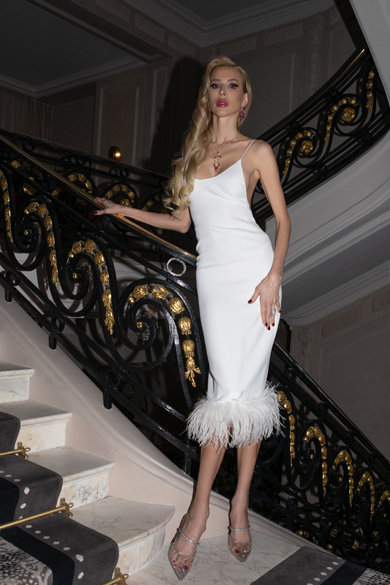 I advise you to look at the top brands. At the recent Chanel 2023 Haute Couture Show, it was made clear that this season's trend will be lip-accent makeup. Agree, a great solution for those who don't like to draw themselves arrows and eyeliner every day. A glossy red lip is your go-to for the upcoming season.
For our magazine shoot, you posed in some very interesting jewellery. Tell us more about the brand and where did you hear about it?
As you know, I like to discover new things not only in the field of beauty (smiles), I've always been interested in jewelry, and now, working on my own collection, especially. This time we decided to collaborate with two amazing designers at once. One of them is Shaun Leane from the UK. I recall that his star clients include Kate Moss, Daphne Guinness and so on. His approach to jewellery making is very close to my heart and he sees it as a kind of therapeutic activity. His jewellery is layered, large-scale and very pretentious. When creating my collection, I saw it as my own little world and a source of energy above all. The process of creation and the emotions it evokes was important to me.
Is the reputation of the brand important to you?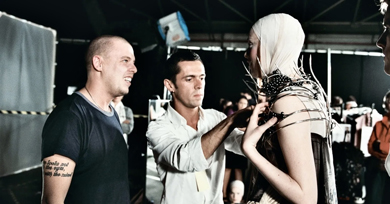 Of course I do my research before agreeing to collaborate, but here the name speaks for itself. In fact, it was Shaun Leane in collaboration with Alexander McQueen who brought the jewellery to the catwalk and made it part of the big fashion story. Thanks to this tandem, we have seen a large number of bold, sometimes provocative jewellery pieces that have already made fashion history. For example, the famous silver wreath with studs for the Dante collection or the large earrings for the Irene collection. I was very happy to be part of such a history and to work with this legendary designer.
And the second brand?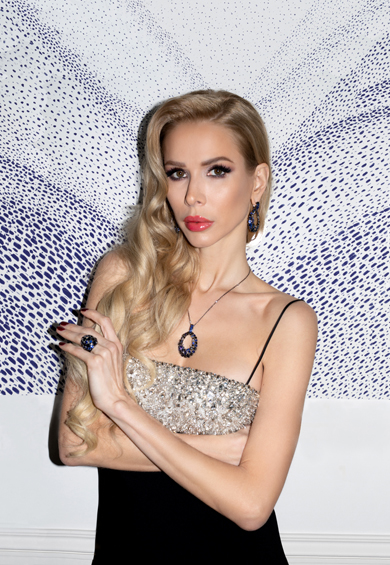 The second brand that was involved in the shoot is Vitale 1913, which specialises in jewellery craftsmanship, trading in unique diamonds and exceptional gemstones. They have showrooms around the world, including the main one in Monaco. Incidentally, both brands have one showroom in Monaco. Interestingly, the brand works closely with the Prince Albert II of Monaco Foundation. Speaking of its reputation, Vitale 1913 is heavily involved in the protection of the ocean and the fight against water pollution, which is undoubtedly worthy of respect. The style here is completely different, it's softer, calmer, without the challenge and drama. Perhaps it is more feminine and familiar to connoisseurs of jewellery. I like the brevity of the forms and the variety of colours.
Do you often wear jewellery in your everyday life?
Like any girl I like to dress up, experiment and try on different images, including those with bright accessories. As the famous song says, "Diamonds are a girl's best friend" (laughs). By the way, during our photo shoot I looked out for a couple of jewellery pieces from new collections, so I'll meet the new season fully armed!